How to create a home office while the economy is affected by COVID-19
If you are thinking about the home office as an alternative to the COVID-19, click here for tips on to how to implement it successfully.
We are currently experiencing a period of social distancing. You may have heard a lot of companies who are asking their employees to develop a Home Office. In essence, a work strategy, where an employee works from home, remotely, through the use of various platforms, connected through the internet.
Even with everyone being connected, in this day and age, many companies and employees are unfamiliar with work-at-home strategies and technology.
In crisis situations, such as the social distancing for the Coronavirus epidemic (COVID-19), there is no option. Working at home or in a home office becomes the best strategy to avoid lowering the company's productivity and to take care of the employees' well-being.
There are some general drawbacks to working from home such as a lack of concentration, difficulty working in a team, information leakage, complications in meeting deadlines, etc, are just some of the negative consequences for companies. But this does not have to be the case.
We share 4 useful tips that you can put into practice if you are going to start implementing telecommuting or if you have already tried it and it has not given you good results.
1. Set goal on a daily, weekly and month to month basis
Being able to have more control over your own schedule can cause employees to procrastinate as there is no direct manager or system to enforce discipline. In order not to fall into this trap, we recommend that you establish clear objectives.
Depending on your objectives, you should define the activities of each person in hours, days, weeks and months. It is the responsibility of the administrators, managers or people in charge of the department to organize the objectives with clear tasks and of the collaborators to fulfill them.
For example, the team should present a proposal for a client the following week. What is the objective, who will be responsible, what task corresponds to each one, when should it be delivered? Feedback from the team is important, so you can set much more realistic times.
The problem of not measuring the times properly is that the collaborators can stay working many more hours than they normally do. This won't help their performance either, because leaving everything for the deadline could hurt the quality of the work.
Or, that you are not clear about the tasks and consequently that the time they spend is more than expected. It could be helpful to set maximum and minimum times.
2. Don't lose communication with your team!
Both managers and workers must maintain fluid communication despite physical distance.
To do this, we recommend that you make use of tools for working from home, such as digital platforms that allow you to organize activity assignments. As well as the use of the cloud or a database so that everyone can access the necessary files and also do the deliveries of their work.
Also, keep your computer constantly connected, whether it's through instant messaging or email platforms. This way you can avoid information leakage, misunderstandings, solve emergencies, doubts and not give the impression that the company's operations are not being attended to.
3. Make your home a comfortable space to work
A great advantage of the home office is that you can condition and design your workspace the way you want. Sometimes office spaces can be a bit sober and uncomfortable.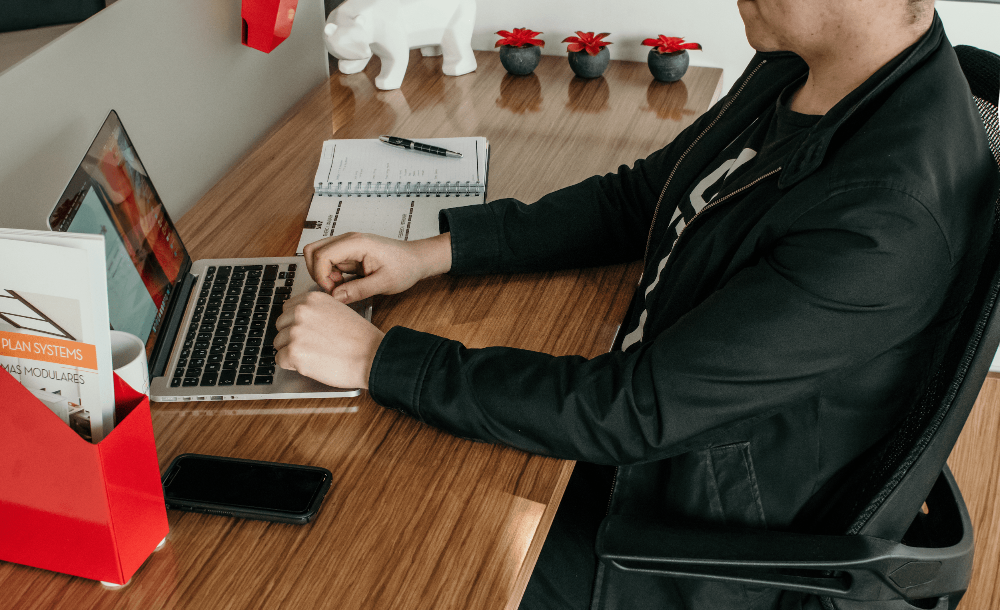 To have a comfortable workspace, it is essential to have all the equipment that employees will need. A computer is the most basic necessity and is also a primary way for the employee to be connected to the office.
You will also need a good desk, a comfortable chair and a lamp for good lighting. Whatever you may need to work as productively as you do in the office.
In times of crisis, you are not prepared, so we must try to make-do and give the employees what is within the possibilities of the company, such as a laptop, wifi expander, etc.
In Gebesa you will find the best work furniture available to make a good Home Office. The height-adjustable desks are a good option for working from home.
4. Tips for employees
Something that will probably be people's worst nightmare will be the distractions. While a lot of distractions will beyond your control, if you follow the following tips, you can minimize them.
You will need to establish a routine. Once you have done so, you need to advise those, with whom you live, to respect your routine, which can be the same as your usual office hours.
You should also monitor the time you spend answering messages or taking outside calls. If necessary, you can close your social network sessions, set your statuses to busy, etc.
In general, you can delay most distractions that interrupt your work but keep some distractions that help you stay relaxed and focused at the same time. It's a matter of balance. If properly organized, you can schedule breaks, when you can relax or just break up some of the monotony.