How to arrange flexible workspaces with modular furniture
Modular furniture in interior spaces can help improve the flexibility of work dynamics and promote a more productive environment. Keep reading to learn how.
Modular furniture has become the preferred choice of businesses conscious of designing flexible workspaces and adapting to the various needs. We live in an era of rapid change, not only due to Covid-19 but also because of how quickly a company's objectives and capabilities can change. That is why it is essential to have furniture that allows us to respond dynamically to the modern world's changing requirements. In this context, modular furniture has become an ideal option for multiple reasons:
They are easy to install, do not require extensive installations.
They can be easily removed or adjusted.
They can be stored without taking up too much space.
They are accessible and have the potential for expansion.
For that reason, we bring you here a series of suggestions on how modular systems can help you generate a flexible and adaptable office for current needs.
Different functions
The furniture needs of a group of people who only provide telephone assistance are not the same as those who require a monitor and space to review documents. The more executive functions that need to analyze more extensive documentation have several tools available or perform multiple types of tasks. As such, assessing what work every person performs and space they need for better efficiency can enable you to select from different modular furniture types. Of course, their expandable capability will allow you to add or remove spaces with great ease.
Organization by areas
It is also essential to evaluate whether the distribution of area, in general, is adequate. For instance, if you have the sales department distant from a related department, such as the marketing team, it might be more useful to place it closer. You can even arrange collaborative work units, meetings, discussions, or other tasks requiring a more coordinated integration at intersecting locations of two or more related departments.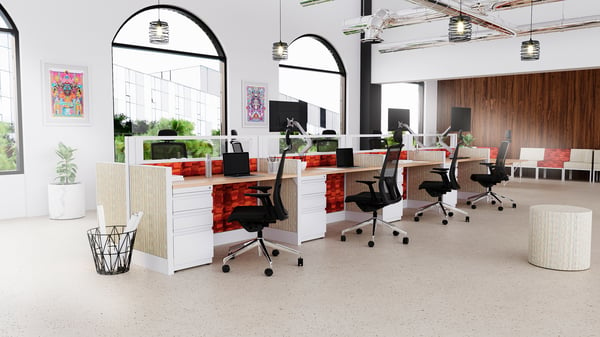 Modular furniture with the ability to adapt
Another practical way to make your office more adaptable is the installation of modular systems with adjustable height. For example, suppose you have an office with an open floor plan, where workspaces are not stationary but can be arranged in different positions. In that case, this kind of furniture will allow you to adapt the height according to the person's very particular taste on duty. If it is a single person's dedicated workspace, it can also be suitable, because not only can the desk be adapted for different types of tasks; for example, a certain height might be more convenient for hand sketching, or an extra height for typing on a keyboard. Many companies are also implementing modular furniture for ergonomic reasons, as changing positions reduces the probability of repetitive stress injuries.
Analyzing what level of coordination is required
Modular furniture can also be configured depending on the degree of collaboration required. For example, if a work team starts a project that requires excellent coordination and constant communication, a modular system with interconnected areas is efficient. Some alternatives even have shared spaces, such as a communal desk area, and provide personal space for those tasks that need to be done independently. In other words, modular furniture can deliver both types of work areas. Besides, if necessary to create environments with greater isolation between individuals, modular systems can be arranged into office cubicles, reducing distraction within the office.
Healthcare considerations
Quality modular furniture such as that from Gebesa also has the advantage that it can be easily adapted to the many health guidelines that are being implemented globally. This type of furniture is straightforward to configure and conform to relevant social distancing rules; additional dividers can be added, to each work unit, to make the separation between the different company members more effective. These dividers can be added as a floor standing partition, which could be applied, for example, between the seats in a meeting room; or they can be added on the sides or top of the modular furniture to reduce the incidence of contact between different members of the office.
Final reflections
Modular furniture can also be adapted to different organizations' needs, contributing to the constant enhancement of a company's performance. It is easier to add or remove elements in terms of space distribution and provide decorative functions, always aiming for the best arrangement. Sometimes, merely changing the partitions' color or adding a shelf or cabinet to each work unit can provide a dramatic aesthetic change. Therefore, it is worth considering the possible implications of modular furniture and also investing in quality products that guarantee excellent and efficient operation in the long term. Proven choices such as those made by Gebesa, with quality materials, dynamic designs, and cutting-edge technology, represent an efficient alternative to boost the productivity of all types of offices through flexible furniture that is fully adapted to the changing needs of your company.