Innovative office solutions that make healthy distancing possible
According to recent research by Thrive Global, 80% of employees would like their employer to take more aggressive steps to safeguard the employees' health, especially in the face of the global pandemic situation. Today, there are innovative office solutions, some of them exceptionally accessible, not only to generate a greater sense of security but to provide a safer environment while continuing business activities inside offices.
This article compiles several strategies successfully employed in various businesses to provide safer spaces for office workers. The goal is for the workers to focus on their work without worrying about the global Covid-19 pandemic.
Review procedures
All companies need to review their current processes and systems, seeking to eliminate unnecessary common areas and sections.
For example, suppose your company has a waiting room or a reception area. In that case, you could consider asking visitors to make an appointment in advance, allowing them to enter the office and proceed to their destination, avoiding unnecessary crowding.
Also, a review of work schedules and functions could help reduce the number of staff working simultaneously in the same work area.
Innovative office solutions
One of the most basic ways to improve office security is to ensure that a healthy distance is maintained between the different work areas.
Distancing desks further away from one another can be useful, although a more practical solution that does not require elaborate furniture or considerable floor plan modifications is installing dividing panels.
For example, in work areas with desks, placing plastic panels at the front and at each side, where there are co-workers, will create a physical barrier, which will provide protection.
There are even adaptable alternatives to desks, which can generate integrated protective barriers on three sides. A total division is generated at the sides and in front, thus generating safer workspaces.
This type of protection can also be added to the top of a cubicle installation. The division extends up so that even if the employees are standing, direct contact between different areas is avoided.
In meeting rooms, it is also convenient to place plastic panels on each seat's sides. While visualization between people is vital at a boardroom table, adjacent panels can avoid direct contact between people closest to each other, providing better protection.
For this type of area, the panels can even be transparent to maintain the visualization. In contrast, in the desk and cubicle areas, translucent panels can illuminate the work area, the communication capacity. Still, according to the sanitary safety measures currently exist, a higher level of protection can be maintained while minimizing distractions.
These innovative office solutions are currently incredibly accessible and easy to install, and even easy to move. In some cases, such as panels that can protect from floor level, some alternatives have their supports to stand on their own, which allows them to be moved easily.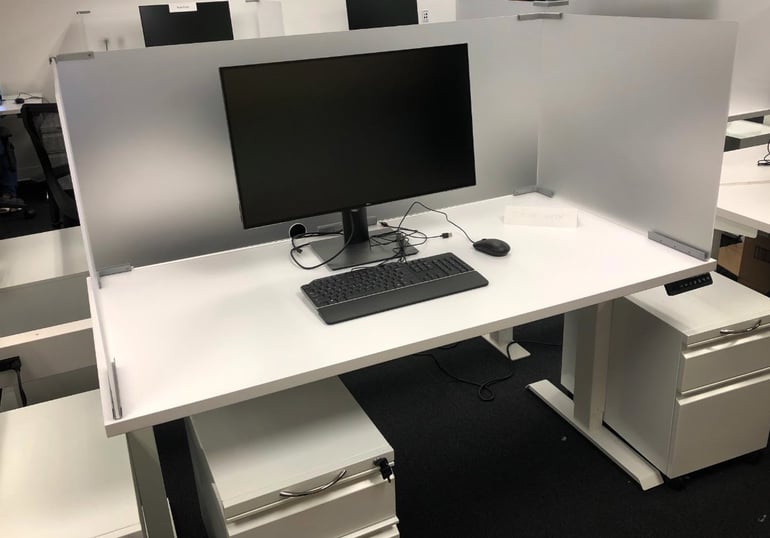 Accessories and additional protective measures
Similarly, there are other types of accessories that can keep offices and workplaces hygienic. For example, sanitizing mats or dispensers with antibacterial gel should be present in all workspaces; in this sense, it will also be useful to have mobile supports for each one to be installed, moved, and/or removed quickly.
Providing workspaces with better protection and hygiene measures will be valued by all employees since it is not only a way of demonstrating interest in their well-being on behalf of the company. It will minimize the risk of generating some focus of contagion, and that the operative activity can be maintained to continue the healthy corporate performance.