What is biophilic office design, and why consider this in your office?
Biophilic office design lets you bring elements from nature into the office and benefits employees' productivity. Find out how with this article.
Do you want to decorate your office with classy furniture? It is a good idea after this lockdown since your workers and clients need a change. No doubt, this idea will show your enthusiasm for a new life. Office upgrading or new furniture installation can be associated with a traditional style furniture. However, the use of modern and stylish furniture will be a treat. The attractive furniture enhances the allure of your decoration. If you want products that can give you comfort and durability, consider biophilic office design. It is excellent for your business productivity. Learn more about these designs and styles.
What is

biophilic design?
It reduces tension, expedites healing, improves mental health, increases creativity and cognitive function, and many more benefits. The trend of biophilic design is getting popular here day by day when it is imperative to improve business productivity. In this style of office design, the preference is a natural style. It includes green cleaning policies, intelligent lighting systems, open space and views of nature, sound, aromatherapy, indoor plants, garden walls, and many more.
Why do you need to consider biophilic design?
It is crucial to create a healthy and friendly environment in the office if you want to improve your business's productivity.
Improves mental health
As we have mentioned above, this type of interior design can reduce stress and work pressure. If workers have peace of mind and there will be no pressure on their nerves, then they will show their better efficiency to their business.
This design type is the best way to get more loyalty and affection from your workers using Configuration G., Yes, this type of design promotes positivity, and they will be creative during their work time.
One curious aspect of biophilic design is the olfactory component. The theory is that an office's aroma should be part of the design to make the environment more vibrant and active. While essential aromatherapeutic oils are an option, some options are effortless to implement. Making your office smell of fresh citrus fruits gives the essence of energy. Potpourris are available, and you can also choose to create one naturally by mixing orange juice, cranberry, rosemary into a pot of boiling water to make the office smell inviting.
Aromatherapy diffusers are another way to make your office workspace smell like a peaceful area. Set the mood of the workspace and make it endure.
Needs less space for the decoration
Space crunch is a problem for all. With business meetings, clients, and visits coming up, everyone is looking for ways to decorate offices uniquely in the limited space. Decorating small-sized offices can be interesting if you know space usage. Smaller-sized office owners should focus on using the height rather than the floor space for decoration using a biophilic design. The office is incomplete without computers, printers, machinery, lights, Configuration E, and other office stationery. You can decorate it with natural wreaths. You need all these as a part of your decoration whether your office is big or small.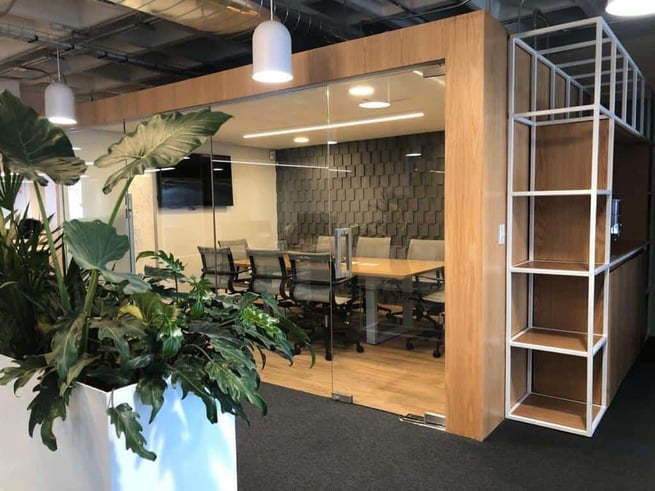 Can create more space for storage
A vast area gives a fresh feel. Using the walls, make use of the walls which do not have attachments. Make your storage racks on the walls to create more space.
Aesthetic appeal
To give it a more realistic look, push a table or Configuration J to the wall where you are installing the storage rack. Place small plants on the table just below the stem to give it a complete look. How are you going to make a tree for the wall? There are small interior plants that are available. You can stick them on the walls. There are different sizes of wall plants stick-on also which are available. You can also choose to make your plants with colorful papers if you wish.
Bottom line
The biophilic design is ideal for getting peace of mind too. The white concept of the office décor, like frosted windows and snowy window decoration ideas, is a great way to decorate the office's windows. Decorate with snowflakes to make your office staff ready for work in a peaceful environment.