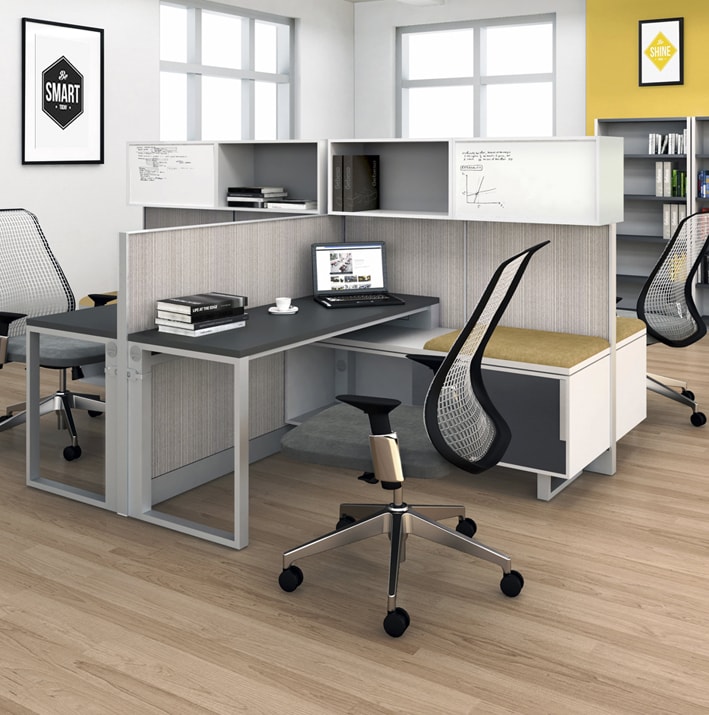 The cubicle workstations with office dividers are the best way to distribute and separate our surroundings, to better organize our office space.
Modular furniture offers advantages thanks to the flexibility of use and the ease of adaptation according to the needs.
To choose the cubicle workstation that works best for your business, you'll need to think about:
How many users utilize the space?
What is the style of the company?
Size: How much space is in the office?
Function: What type of work is performed?
Budget: Depends on the model, design, and durability.
Gebesa has an extensive list of options of cubicle systems with office dividers with different functions, budgets, and finishes that can be adapted to the colors of the corporate or company.
Elite
Its unique tile configuration allows you to design stylish, flexible workspaces using modern finishes and cutting edge materials.
It optimizes spaces thanks to its multiple configurations that adapt to different levels of interaction or privacy among users.
Creatively and technologically engineered ELITE has the capacity for complete voice, data and power management.
Optimus
The optimus cubicle workstation is Gebesa's most technological system since it offers optimum wire-management capability thanks to its beltline raceway that allows access to power and/or voice and data at work surface level.
This modular collection allows for multiple configurations to optimize space and create organized, productive workplaces.
Various panel finishes follow the latest trends in interior design to create modern, progressive work environments.
Synergy
SYNERGY'S cubicle workstation is based on upholstered monolithic panels, creating fun spaces with simple acoustic solutions.
Easy to assemble and designed for wire-manage capabilities, this is a collection inspired by productivity and efficiency.
Provides a quick solution to the specific requirements of dynamic workplaces without sacrificing the functionality and image of your organization, along with a wide variety of accessories to customize your workstations.
The panels are made under the characteristics of individual work, but allow coexistence with colleagues, as they have a perfect size that allows conjunction and integration.
Create the perfect space for your office with Gebesa's help!