How to make use of small spaces with office storage furniture
It is currently essential to use every square foot available; as such, we have compiled a list of ideas about how office storage furniture can be used to save space, either in your company or even at home.

Mobile bookcases
When it comes to documents or office items, bookcases are always an exciting option, especially when it comes to articles that one would like to display and have easier access. However, a more practical option is mobile bookcases, which allow us to increase the storage capacity of a given while taking up a minimum amount of space.
Mobile bookcases have adjustable shelves, allowing anyone to customize the shelving configuration, which generates an additional storage space based on the individual's needs.
Vertical filing cabinet
Vertical filing cabinets are a staple in most offices due to their practicality. Using a few square inches, you can create a space to store and organize files, but still easy to access.
They can also be expanded or stacked up to several levels to reach the ceiling's height or lined up to take up an entire wall.
If your files are private or require security, locks can be added, giving the same functions mentioned, but added security without adding locks to office doors.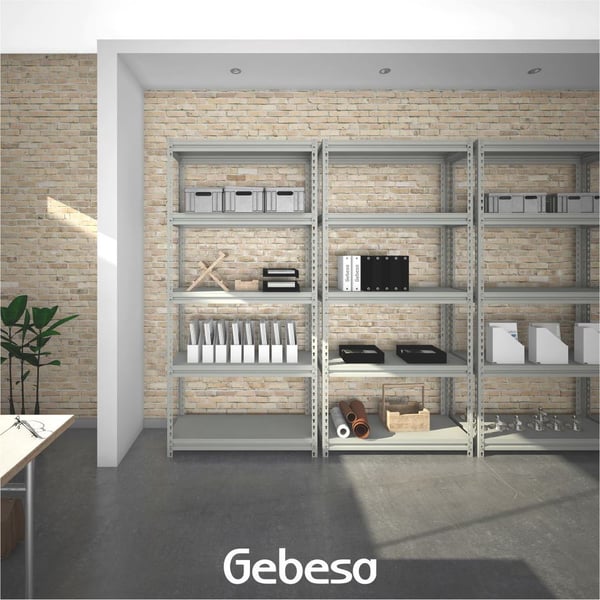 Mobile filing cabinet
A mobile filing cabinet is one of the most relevant market trends for offices requiring more advanced and efficient storage capabilities.
This type of office storage furniture is ideal for accounting and law firms or companies, which need to keep a large amount of documentation or physical elements in a well-organized manner, that is also mobile. Imagine being able to roll an entire file cabinet containing a complete case's files instead of carrying and storing box after box of files.
Nowadays, there are convenient and high-quality alternatives such as Gebesa's mobile filing cabinets, designed to make the most of the space available inside a company or office.
Modular furniture
Another of the most practical ways of making the most of the small spaces available today is modular furniture with filing cabinets. Not only can they provide their primary function, but they also offer attractive yet accessible storage space.
Many designs can be quite practical and useful for you or your company. With the advantage that they are modular furniture, not only can they be adapted very quickly to the available space, but they are also very light, flexible, and dynamic. Therefore, they can be moved, repositioned, or even removed very quickly when required.
Modular furniture can also generate storage space under the table or desk's surface. This is very useful for easy access to the most helpful office items you may need, on-hand, without taking up a lot of space. On the contrary, it can also contribute to the better performance of office activities.
Horizontal filing cabinet
While modular furniture can be designed with storage space, the horizontal filing cabinets with a cushion on top is a storage solution that has been modified to have another use.
Not only can the horizontal filing cabinet be used to store files and offer a better view of the stored files when the cabinet is open, but the structure has been reinforced, so the added cushion on top can be used as bench seating.
With a little creativity, studying in detail the amount of available space in your office or home, and by selecting various storage furniture options, you can make better use of every square foot available so that your area remains functional and with the ability to store and organize your work area for maximum productivity.