Choose the right color scheme for your office
Good color schemes for offices influence the vibes in the room. Studies suggest that colors can be intentionally used to create a space that is inviting yet professional.
Colors can also be used to bring alive the thematic ideas that you have in mind for an office space. However, when it comes to good color schemes for offices, there is no dearth of options.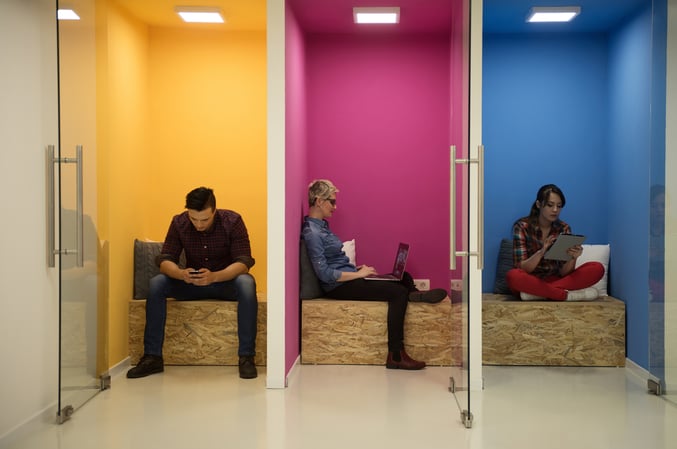 There are so many good color schemes for offices available that they can confuse people, so it can be hard to select one color out of many, especially if you are aware of how a specific color impacts the environment; but taking the help of a color expert or an office design agency can help you select a color for your office.
Moreover, do not rush yourself when making a choice. Consider all the available options. Chart out which color looks good, which combinations complement each other, and how different rooms should be painted, so that the end result is aesthetically pleasing.
To avoid ending up with a mismatched office, you need to consider:
the color of your rugs,
wallpaper
furniture
You must also explore the world of paint texture and patterns for walls that needs to be a little extra so that they stand out.
Painting contractors and office design agencies can help you understand colors, beyond their aesthetic value. These professionals offer a strip of various shades of different colors, ranging from darker to lighter tones. You can choose the tone that fits perfectly with your work environment.
It is believed that white brings out efficiency in people, that green color is refreshing and calming, and that blue color can help increase concentration. Too bright colors can turn the place into a fun spot rather than a workplace.
Can the color of the walls impact the work environment in an office?
The answer is, yes. Workspaces with brighter colors are likely to be upbeat, those with milder colors tend to be more organized, and those with shiny colors that bounce out from the walls are fun. Choosing the right color tones for your office can not only impact the productivity of your employees but also change the appearance of the room.
While getting your walls repainted does not require a big investment, it is still difficult to get the painting job done frequently. The reason behind this is that it takes a lot of time to cover the office floor with newspapers and canvas, accomplish the job and then wait for the smell to fade away. This can take away a few of your working days due to renovation. It is better if you make the right decision when getting your walls painted.
There are many colors and brands of paint available in the market. Choosing the right one is a challenging task. You need to choose a color that enhances the impact of the decor style, and infuses good yet energetic vibes in the room, while also complementing the already existing furniture, carpets, etc.
First, you need to view various color shades, then you can try out mixing colors and making a formula to figure out which color you like for your office walls. Then you need to decide upon the color of the edges and windows and doors. Many offices go for white or off-white color for the windows, however, if you like some other color then you can consult your office design agent for consultancy. Choosing between warm, cool, and neutral color shades might seem difficult on paper. By painting small patches on your office wall with the narrowed-down option, you can view how a color will look in your office lighting. The decision that is made after this will be more reliable.
You must also pay attention to the paint finish that you choose. The right product can beautify your office, while the wrong product will merely act as a coat. The matte or flat finish can smoothen out imperfections on walls and make them look more professional. Whereas, a glossy finish reflects light off the wall.
When choosing a paint color, brand, and supplier, you need to conduct sufficient research. You can collect samples of paint from various shops and compare them to the office. This will give you a clearer idea of how it looks in the room and how the color is impacted by the lighting in your room. Do not shy away from taking various perspectives while making a choice. Thoroughly search bout the reliability of paint from a particular brand to ensure durability.