Five elements you need to enhance your office lounge area
The office lounge area can really improve wellness and creativity for your team. Make sure it's appealing.
The office lounge area is usually an unnoticed part of the office, as it simply isn't where the work is done. This shouldn't be the situation, as these are the places that set the initial impression for customers coming into the workplace. An office lounge area is a perfect chance to influence and express the brand or business's culture. Above all, it must feel friendly and welcoming; it should be kept neat and clean, but some design tips and tricks promise a perfect lounge area. The best practice to do this is to engage all of their wits positively.
The office lounge area will have to be visually attractive to stimulate a person's sense of vision. It is the best place in the workplace to add creativity and fun to the workplace. This is the space for casual discussion, as well as to meet and greet with people. It shouldn't be an extension of tedious work-life but should instead display the culture of your company.
Color Plays an Important Role
Color is a fantastic way to get started. Studies in psychology demonstrate that bright shades lift the mood, meaning that an individual will be positively involved in your business.
Suppose your business logo has specific colors on it. In that case, this is the perfect place to show your company's reputation and standards by showcasing them stylishly or even by giving a wall a touch of modern embellishment using the logo as a display.
If you want to make it contemporary? Skip color altogether; glass walls are brilliant design aspects and are fitted far more quickly than anyone can think in the office lounge area.
Get Greens
There is something about taking the outdoors inside that people find soothing. Getting an indoor plant or small tree promptly sends the right message to the customers. You just have to make sure that they are well-kept and looked after. Consider hanging plants for a more contemporary look and nominal care.
Think about the overall tone of the office lounge area
Decide how you want the office lounge area to look. Are you in search of something delicate and professional? Do you need each and everything to sync perfectly? Is the atmosphere of your office more laid-back and casual? Also, think about who will use the office lounge area. If it's mainly for customers, it makes sense to equip it in a more conventional style. However, an office lounge area for workers could take advantage of an eclectic blend of comfortable office furniture in various materials, fabrics, and colors.
Use Couches and Chairs
Couches in the office lounge should accommodate as many visitors as possible.
Clients or even colleagues who want to use the lounge area can work together on different ideas. Since this might be the lounge area's key element and the walls, the couch must be chosen for aesthetics and comfort. Many workplaces pick a sleek, modern look, but you could easily make this a statement piece by selecting a bold color or a traditional look.
Many individuals feel uncomfortable if the only available seating forces them to side with strangers without any physical barrier, as on a sofa. The addition of chairs can help and could match the couch or take on a look of their own with different shades. Pick your pieces creatively and wisely, but remember to do a sit-test before buying any item.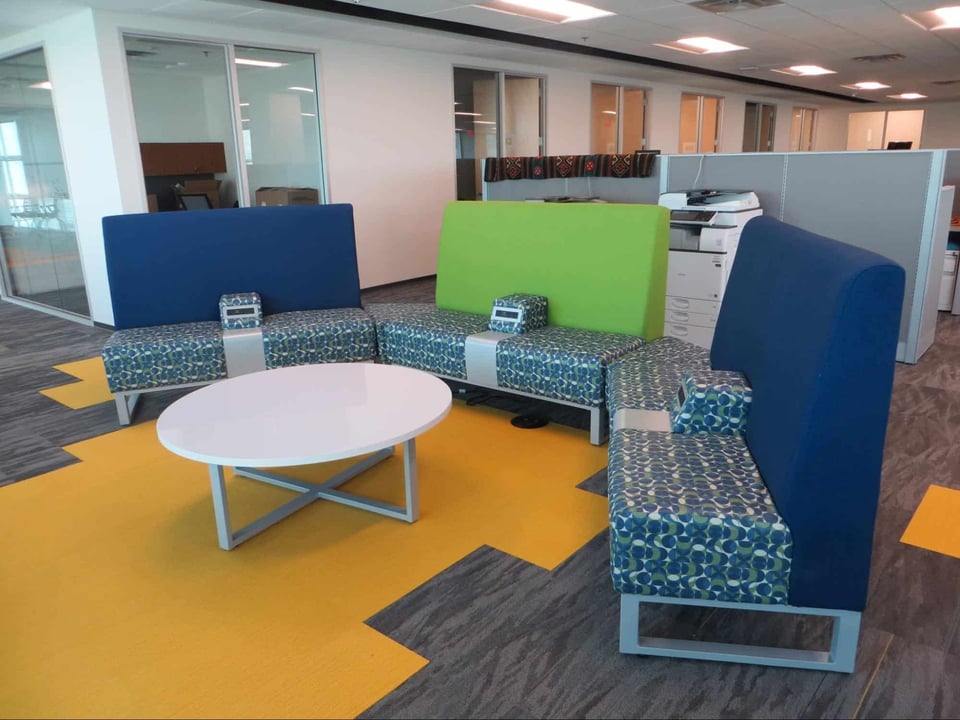 Keep an eye out for storage
Try to improve every piece of furniture you put in the office lounge area. A coffee table with two levels is excellent as you could place magazines on a lower shelf, leaving the top shelf free for snacks. Likewise, nesting tables could be stacked gracefully when not in use.
Bottom Line
Some ideas could be used for decorating and designing the office lounge area, and while some offices have a pre-decorated lounge area, others have to be designed and furnished. Pre-decorated lounge areas are getting common nowadays because of the convenience of the users. The quality of these products is barely comparable to other personalized products.
It is essential to pay attention to the office decor from reception to conference or meeting room. You need to make your office attractive to grab the attention of visitors.